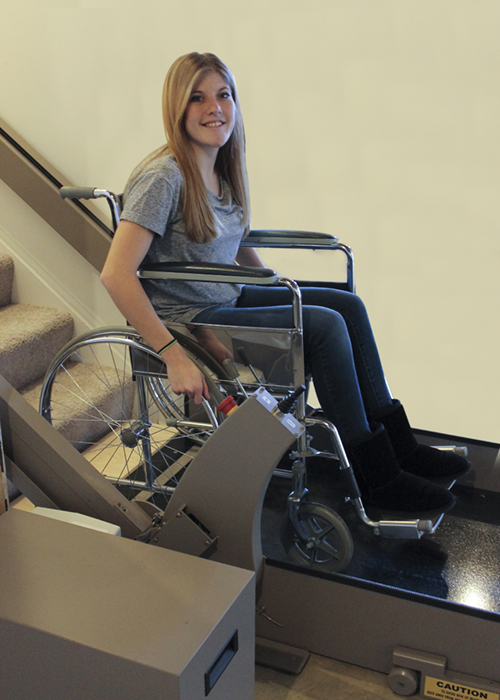 Butler Mobility Products is a manufacturer of premium quality wheelchair Lifts.   All of Butler Mobility's wheelchair lift products are rugged, sturdy units with UL® CSA certified components and are useful in commercial or residential applications.  Butler Mobility Products has been manufacturing wheelchair lifts since 1968.  Butler Mobility Products are manufactured and assembled by Butler Dynamics, LLC  in Lewisberry, Pennsylvania.
Butler Mobility Inclined Platform Wheelchair Lifts (IPL) are the perfect solution for a home with stairs where someone needs to have a wheel chair on both levels of their home.
As well as ADA-compliance, our platform wheelchair lifts meet or exceed all National Safety Code (ANSI/ASME code) requirements. Our products are V.A. approved and have UL® and CSA certified components.
Standard lifting capacity is 500 lbs.(227 kg.) The optional lifting capacity is 750 lbs (350 kg).
In the event of a power failure, the standard battery backup will bring the platform up and down as many as 12-15 times, depending on the age of the battery, the height and the load, so the user is never left stranded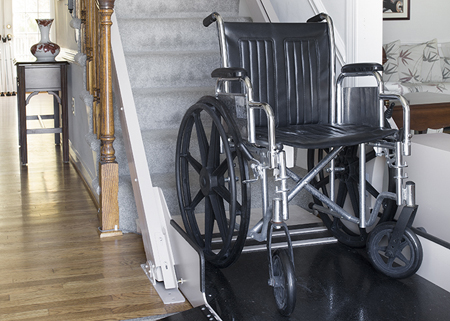 Our Inclined Platform Wheelchair Lifts can be equipped with an automatically folding end ramp and guard that locks firmly in place during operation.
Each wheelchair lift has an emergency stop button standard.
Battery backup is standard.
Optional key-operated controls provide additional safety.
Slack/broken chain safety
Redundant platform safeties
Platform safety apron
Over speed governor
Upper and lower limit switches
Over travel safety switch
Safety clutch
The two-rail design means the installation is simple and requires minimal changes to the stairway. There is no need to modify the walls, the rails mount on the landings.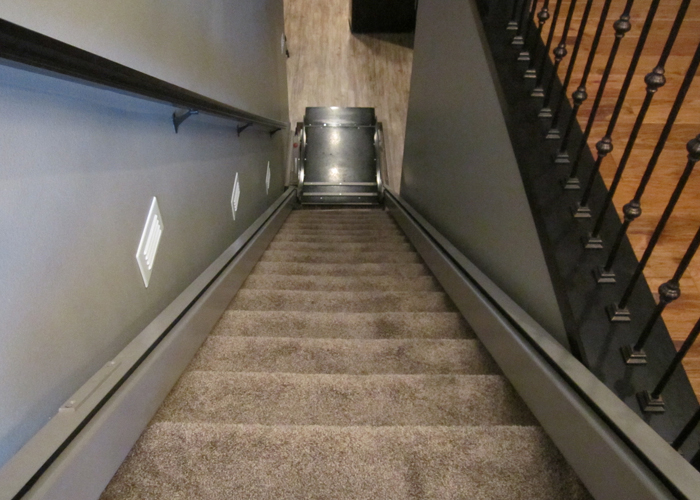 All Inclined Platform Wheelchair Lifts have three directional switches, all within easy reach of the user. One on the platform, another at the upper landing and another at the bottom landing.  Wall mounted controls are available at a small additional cost. All switches are "momentary" (constant pressure) to meet safety code requirements.
Each wheelchair lift has an emergency stop button standard.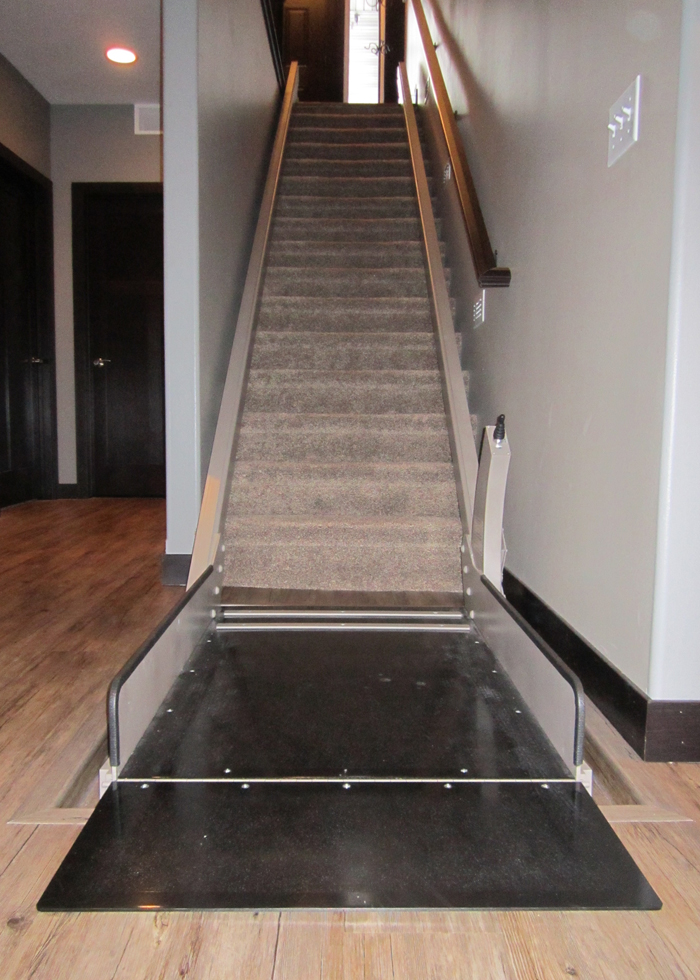 Each rail on our Inclined Platform Wheelchair Lifts takes up just four inches of stair width when the unit is not in use, ensuring the safety and convenience of other family members and users.
The Butler Inclined Platform Wheelchair Lift is also designed with appearance and functionality in mind. All the working mechanisms are concealed to offer a seamless, attractive appearance and optimum safety in homes and public buildings.
Butler Wheelchair Lift models are offered in five deluxe colors:
Autumn Brown – a deep rich dark brown
Weathered Chestnut – a beautiful silky medium brown
Sierra Foothills – a classic blend of creamy brown with a muted gray/green tint
Manor Stone Gray – a striking gray with brown undertones
Coastal Beige – a deep rich beige
Butler wheelchair lifts are designed for installation that couldn't be easier or less invasive. The rails attach at the top and bottom of the stairs with no modifications needed to walls. The power unit can be located almost anywhere at the bottom of the stairs including through an adjoining wall.  Our Inclined Platform Wheelchair Lift uses standard residential or commercial 110 volt power.
We back our inclined wheel chair lift products with a five-year limited warranty, as well as nationwide customer service and maintenance either direct with Butler Mobility or through one of our authorized dealer/installers.